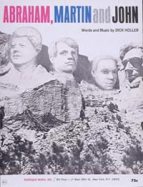 There aren't too many songwriters who could adapt their style of writing to both novelty and serious songs with a good degree of success. Bob Merill was certainly one of them having written classic novelty songs like She Wears Red Feathers, How Much Is That Doggie In The Window and Where Will The Dimple Be and the standards like People, If I Love Ya, Then I Need Ya, If I Need Ya, I Want'cha Around and When The Boys Talk About The Girls. Dick Holler, a rockabilly singer, was another with songs like Snoopy vs The Red Baron and Abraham Martin & John to his name.
The latter is an evocative folk/soul anthem written as a tribute to not only Abraham (Lincoln), Martin (Luther King) and John (F. Kennedy) but also John's brother Bobby. Phil Gernhard was an ex-law student and producer who had worked on Maurice Williams & The Zodiacs' Stay and The Royal Guardsmen's Snoopy vs The Red Baron and when he signed Dick Holler to his label he was impressed with the first song that Holler had showed him.
Holler wrote the song the day after the assassination of Senator Robert F. Kennedy in Los Angeles on 6th June 1968 expressing his sadness of the tragedy and equating it to the tragedy of the other three figure heads.  It's the last verse that relates to Robert although he remains uncredited in the title. Interestingly, despite the order of names in the title the verses are in the order of Abraham, John and Martin. Dick played the song to Gernhard who turned round and said to him, "That is very moving and what you've written there is the history of the civil rights movement." Holler relied, "Well, no. The man in the White House at that moment, Lyndon B. Johnson, accomplished more for the civil rights of American blacks than any elected official of the 20th century. But no one in 1968 was going to buy a song called Abraham, Martin & Lyndon. Furthermore, the roots of the civil rights movement can be found as much in citizen activism as in top-down decisions."
Gernhard decided nonetheless to record it but then took several months to find the right singer. The Royal Guardsmen did a demo but Gernhard wasn't happy with it as he wanted someone more laid back. Gernhard received a phone call from an old friend Gene Schwartz who had been and A&R man for Laurie records between 1958 and 1962 and had Dion (& The Belmonts) signed to his label. He said that Dion was making a comeback and asked if he had anything for him.
Dion and Phil Gernhard got together in 1968 at Dion's Florida home where he auditioned a few folkish-type numbers by Leonard Cohen and Nilsson. When Gernhard heard him sing he thought, "Oh my God, this guy's voice is perfect for Holler's song because he won't telegraph it!"
Gernhard brought out Holler's sheet music and asked the singer to work on the song and see what he thought. Dion's response after seeing it was; "I hate this song, I don't want to cut it, I don't like it." Gernhard refused to take no for an answer and worked hard on the reluctant artist. Even Dion's wife endorsed the song and eventually he relented and in the summer of 1968 flew to New York to record the number even though he still didn't like it. On the day of the session, Gernhard was in the producer's chair working alongside arranger John Abbott. Dion walked into the studio, sang the song once, beautifully, and departed.
When released in the USA it reached number four. It was no only popular, but really made people sit up and take notice. High school teachers played it in classrooms and got teary-eyed, and were amazed at how quiet and thoughtful their students suddenly became. Later in '68 Dion sang it on The Smothers Brothers Comedy Hour with Gernhard in the audience. After the show, "Dion seemed upset," recalled Gernhard in a 2000 interview "But he wouldn't say what was wrong. We went out and grabbed some dinner and headed back to the hotel. Eventually he spoke up and although Dion will never, ever acknowledge this publicly, he suddenly turned to me and he said, 'I didn't know it was about those guys.'"
Dion wrote in his 1988 memoir, The Wanderer, "If it had been up to me, Abraham, Martin and John would have stayed just a young songwriter's dream. I was recovering from a long addiction to drugs and working to get my career back on track and just didn't see the message of the song until my mother-in-law pointed it out to me. "I realised that what these four guys – Lincoln, King and the Kennedys — had in common was a dream. It was like they had the courage to believe that a state of love really can exist…'Abraham, Martin and John' was a way of reminding people that they could aspire to great things, even in the midst of tragedy and confusion."