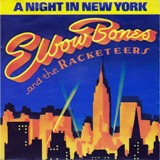 One of the most dapper guys in the music industry has to be the man known as Kid Creole. Even now, at the age of 65, he still prides himself on his sartorial elegance which was based on his idol, Cab Calloway.
Kid Creole are the two middle names of born Thomas August Darnell Browder, the man who fronted Kid Creole and the Coconuts. He was born in The Bronx, New York to an American mother and a father who hailed from Savannah in Georgia. His education was good and he obtained a Master's degree in English before forming his first group, Dr. Buzzard's Original Savannah Band in 1974 with his brother, Stony Browder Jr.
After a couple of years he turned his hand to production and began working with artist like Don Armando's Second Avenue Rhumba Band and Gichy Dan's Beachwood No.9. Wanting to get back in the limelight, he formed The Coconuts and renamed himself Kid Creole, a pastiche on Elvis Presley's 1960 film King Creole. That band was originally led by Coati Mundi and backed by the Coconuts who were Cheryl Poirier, Taryn Hagey and Adriana Kaegi. After a few hits in the early eighties including the top five's, I'm A Wonderful Thing Baby, Stool Pigeon and their number two hit Annie I'm Not Your Daddy, he began to branch out again with other artists.
The first came at the end of 1983 when he assembled a new band known as Elbow Bones and the Racketeers. Elbow, or John Rynski, to give him his real name explained how it all came about, "I was a fashion photographer from Detroit via Paris and New York and I was an aspiring punk back in 1979. I wasn't a fan of the Savannah band, but I did go to the first Kid Creole show and spoke to Coati Mundi backstage. He was limping around on crutches and explained that he'd had an accident, poor guy. Next minute he's leaping about on stage and that's when I thought these guys are crazy. I hung out with them in 1980, did some backdrops, photos, videos and went to every show. I'd do anything just to be with them, I even drove the truck. August just thought I was another parasite because I was always elbowing into his ribs – elbow bones he called me…quite a derogatory term really."
The racketeers were Frank 'Pago Pago' Pasalacqua, Gichy Dan, Ken Fradley, Lee Robertson and, one of Kid's Coconuts, Carol Coleman. So how did he eventually come to form the band with August's assistance, "I saw a lot of talent around who Darnell would take from but not give so much back to," Rynski remembered. "I remember Dutch Robinson from the Ohio Players who tried to sell him songs but you could see his negative reaction, so I eventually formulated a forties bandleader type thing, quite different from the nihilism that was around in the clubs at the time and I suggested it to Darnell but he was totally uninterested. But then in 1982 he went on the Tropical Gangsters tour and so I rang his brother Stony and explained what I wanted to do. He suggested putting a show together whilst Darnell was away and so we assembled a band which included Gichy Dan and Stephanie Fuller who I'd known for a couple of years."
The first song they recorded was called I Got a Girl in Kalamazoo which Rynski described as a muzak version of Stool Pigeon and the tackiest thing they'd done. He went on to say, "We did three songs, all quite shambolic but when August returned he actually liked it and he went straight to EMI and got us a deal."
Stony had composed a tune which he provisionally called Hard Times, he played it to Rynski who liked it and suggested it sounds more like Happy Times rather than Hard Times. When August came back Rynski asked him to put lyrics to it. August was also working on a new Kid Creole album called Doppelganger and he'd brought in a couple of songwriters including Ron Rogers who had written a track called The Lifeboat Party for that album. August asked him to write a song for his new project and in just a couple of days he came up with A Night In New York which was issued as the A side and Happy Times as the B side in November 1983 with all tracks overseen and produced by Darnell himself.
They released a follow up in April 1984 called Happy Birthday Baby and then four months after that came their final released Mama's In Love Again, but they all failed to make any impact.
In 2012, Rogers and Stephanie Fuller reunited to do a promo for a remastered version of their 1983 album New York at Dawn, which included six additional remixed tracks but generally passed most people by.