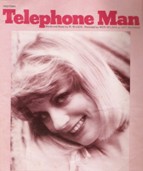 The 1970s was certainly the decade for double entendre songs. It arguably began in the reggae scene with a number of Trojan artists and then commercially withMax Romeo's 1969 hit Wet Dream which he still claims was about a leaky roof (yeah right!), but Judge Dream certainly led the way throughout the decade which resulted in none of his songs getting any airplay. The Starland Vocal band's Afternoon Delight and John Inman's Are You Being Served Sir both managed to avoid the airplay ban as did the breathy, giggly Telephone Man by one-hit-wonder singer Meri Wilson because one the face of it, they were harmless enough.
There was more to Meri than met the eye! She was born in Nagoya in Japan at a U.S military base where her father served, but was raised in Marietta, Georgia. She attended the Indiana University of Music where she gained a Masters Degree in Musical Education. In 1975 she suffered major injuries in a car accident and was forced to wear a body cast for many months. On the upside she discovered her natural talent for song writing. After making a full recovery she began singing in clubs and restaurants. One night whilst singing she was spotted by the owner of the Texas restaurant chain Daddy's Money. He asked her to relocate to Dallas which she did and continued singing in clubs. Money was minimal so to make ends meet she began modelling and singing jingles for radio commercials.
After moving into her own apartment in Dallas, an A T & T engineer came to install her new phone. "I swore for years that I'd never admit in public that I dated that telephone man", Meri revealed years later, "But the truth is, yes, I did and wrote a silly song about it. I don't want to say anymore because I'm now happily married, but not to the telephone man."
When she was growing up in Georgia she learned to play classical music on the piano, flute and cello. "I was hung up on writing music that was music but I did write some novelty songs just for the fun of it and kept them in a notebook." she said.
So he was the inspiration, but how did the song take shape? Meri explains, "As I was getting the telephone installed, I remembered the line from a Laura Nyro song that goes, 'I met him on a Sunday and kissed him on a Monday', the rest of it just came naturally and the double meanings were just for fun."
One night she was performing in a club and showed the lyrics to her backing musicians who liked it and encouraged her to perform it live. Eventually she was persuaded and as she says, "In clubs people aren't very attentive, but I started noticing every time I did Telephone Man people sat up and took notice." Another producer Allen Reynolds heard it and liked it and she recorded some demo's for him including Telephone Man originally as an acapella with just fingersnaps. "Allen loved it but he couldn't figure out what to do it with so the idea of recording it was dropped" Meri remembered. Six months had passed and Meri was singing it in another club when a musician called Owen Castleman dropped by. He introduced himself to her and told her he liked the song and wanted to take her into the studio the next day and record it and that's exactly what they did. She also cut some straight songs in the style of Crystal Gayle and Anne Murray who she cited as her influences. Castleman introduced her to a singer called Jim Rutledge from the hard rock group Bloodrock (who had one U.S Top 40 hit in 1971 called D.O.A) and after hearing her the pair agreed to produce the song.
Once it was finished Castleman took the song to 17 different record companies who just laughed him out the door. She said, "I didn't see the likelihood of it becoming a hit and I certainly didn't realise how unique it was." So Castleman created his own label and pressed up hundreds of copies loaded them into his car and went off around Texas distributing them to radio stations and record stores. Meri remembered, "I was in a store in Dallas with Owen and we heard Telephone Man over the speaker which was from a local radio station, so we kept phoning up the station and pretended we were listeners and asked for the song to be played again and again thinking we would have an impact on the radio play."
The song cost just $228 to record and as Meri said, "What you hear on the record was the first take.  We did a few but the tempo was getting faster and faster so we decided to stick with the first one."  She did record a couple of follow up novelty songs like Dick The DJ and Peter the Meter Reader, but none managed to follow up the UK number 6 and U.S number 18 peak of Telephone Man. In the 90s she said, "I wish my claim to fame had been a serious one rather than with a novelty song. It was fun to have a hit record but in my heart I was disappointed that I couldn't have had a real piece of music out there."
In 1993 she became the choral director of a high school in Atlanta and sang in a professional jazz band called the Hotlanta Jazz Singers alongside a singer who was once a member of the Four Freshmen.
In 1999 she attempted a comeback with an updated version called Internet Man which got a little airplay but did lead to a deal with Time-Warner records. On December 28th 2002 Meri died when her car lost control during an ice storm along a Georgia interstate road.