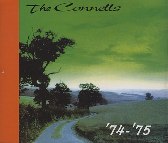 In this day and age, everything is instant. In the music world you can usually get your music the minute you hear it with some radio stations offering a download as they play it. If a record company sign an act and their first hit doesn't make a huge impact they are dropped immediately. Years ago, people were more patient and more persistent, this applies especially to the one-hit wonder act whose only hit was '74-'75 in 1995, but the band waited just over 11 years for that five minutes of glory.
The Connells were a rock group formed in Raleigh, North Carolina by bass player David Connell and his guitarist brother Mike. They had a varying line up in their early days, but they came together as a group in the spring of 1984. Mike was in his second year of law school at the University of North Carolina in Chapel Hill. They rented a practice space and began working up several of Mike's songs with their friend, John Schultz on drums. John was a junior at the same college and was from Raleigh, where the Connell brothers' home base was now. The band tried out a few different singers before settling with Doug MacMillan who was a childhood friend of Schultz's and a swimmer at East Carolina University. At the end of the school year, their practice sessions moved to John Schultz's basement apartment and their first real gig was a spur-of-the-moment performance at the end of term party, but was not paid for it.
It went well and they began to take it more seriously. The following summer the members decided to replace John with Peele Wimberely who had been playing successfully in a local band called Johnny Quest. John, however, went on to become director of the independent films documentaries Behind the Scenes.
The band made great strides and within a few weeks they played their first real show in September 1984, at the Déjà Vu Cafe in Raleigh. The band all lived locally except Mike, who had returned to university for his final year of law school. David, who was living in his grandmother's house, decided to use her garage as their new practice area.
Later in the year a local singer and keyboard player called George Huntley, who had also known the Connells for years, suggested they needed a keyboard player and expressed an interest in joining the band. He wrote songs and also had the advantage of owning a van, so he became the fifth and final member of band which remained intact for twelve years with the exception of Steve Potak who joined as an extra keyboard player in 1990.
They released their debut album, Darker Days in 1985 and was well received locally but failed to make an impact on the Billboard chart. The same applied to the albums they released every two years; Boylan Heights (1987), Fun & Games (1989), One Simple World (1991) and Ring (1993). The later contained a track called '74 – '75, which was written by Mike who finished school in 1975 and wrote this song about the reunion of the class of 1974/1975. It was also about wanting something you used to have or almost had but now regret not going for it back then and when you had the chance. So, instead of 'Happy ever after' you're 'Sorry ever after'. You want your youth and your options again, but not necessarily the exact same things you wanted then. It became a big hit across Europe reaching the top 10 in Belgium, The Netherlands, France, Germany, Ireland, Switzerland and Austria and went to number one in Norway and Sweden. It initially failed to chart in the UK, but two years after its inclusion, to great effect, in the James Mangold film Heavy which starred, Shelley Winters, Liv Tyler, Deborah Harry and the Lemonheads' lead singer Evan Dando, it became a UK hit reaching number 14.
The accompanying music video was directed by Mark Pellington. It was shot at Needham B. Broughton High School in the band's hometown and featured members of the Class of 1975, juxtaposing yearbook pictures with footage of the same people as they appeared in 1993.
In 2000, they fell out with their record company and their tour and contract was cancelled. The line-up changed a few times during the 2000s but Mike and David remain the core members and are still recording and touring mainly in the south-east region of the USA with their latest being at the Lincoln Theatre in Raleigh last week.