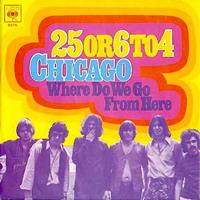 Quite a number of songs are thought to be about drugs which the song writers have fiercely denied; Lucy in the Sky with Diamonds is a good example as is The Shamen's Ebeneezer Goode and the Stranglers' Golden Brown. Now, surely if the writer says they're not, then it must be true, no? No, probably not, but who are we to argue? This week's suggestion is another, but what did the writer tell us 25 or 6 to 4 was really about?
Chicago formed way back in 1967 originally calling themselves Chicago Transit Authority and used the same name for their debut album. They shorten it just over 18 months later when the real Chicago Transit Authority objected. The band originally comprised vocalists Terry Kath and Robert Lamm, drummer Danny Seraphine and a brass section made up of Lee Loughnane, James Pankow and Walter Parazaider. Later the same year Peter Cetera joined as lead vocalist where he stayed until 1985. Their debut UK hit came in early January 1970 and was a cover of the Spencer Davis Group's I'm A Man which reached number eight. A few months later came 25 or 6 To 4 which peaked one place higher.
Lamm, who wrote the song during the night explained, "When I wrote it I was sitting in a room up above the Whiskey a Go Go on Sunset Strip. I just kind of found that riff, I mean, waiting for the break of day searching for something to say. When I had nothing to say, I made this song about writing this song. 25 or 6 to 4 indicates the time in the morning, 25 minutes to 4 am. So, I was seeing all that, just really describing the whole setting. I usually mean exactly what I say, except when I don't. In the morning when I looked at my watch – I was looking for a line to finish the chorus." In reality it was more likely 03:34 and hence 25 (or 26) minutes to four.
"Most songs that were written, especially in the early days, whenever I got them to the band and we started rehearsing them," Lamm told Songfacts. "That's when the songs took shape – once these guys got hold of them. There was definitely a lot of raw material, I thought it was a song when I wrote the words down, I wrote the changes down and I brought the charts to rehearsal, but it wasn't really a song until they all played it."
If you're wondering why there was a lot of rumours about it being about drugs, well that's because…apparently, if you took LSD and did so at around 6pm before going out for the night and the effects wouldn't wear off around 10 hours which would be around four in the morning hence that process became known as 6 to 4.
Chicago's 60s and 70s material had their trademark brass sound and this song was no exception and was very often the song that closed their live shows. Terry Kath's guitar sound was distinctive too. According to Songfacts, he played it through a modified Fender concert amp. The song's producer, James Guercio, said in the same interview, "Terry was always playing with shit, he had this weird 1950s hi-fi preamp or something, like from a McIntosh, he would go through first. I don't know what it was, but however he got that sound, it was a miracle. That's what I wanted." James Guercio knew what he wanted – as a producer should and he asked Peter Cetera, to use a pick when playing his bass, something Cetera never did – he used his fingers, but to compromise, the engineer, Tim Jessup, confirmed that Cetera used his fingernail.
Chicago's biggest hit was the 1976 chart-topper If You Leave Me Now and, in the eighties, they had three further big hits with Hard to Say I'm Sorry, Hard Habit to Break and You're the Inspiration. Cetera left the group in 1985 to concentrate on a solo career and scored one hit with Glory of Love – the theme to the film Karate Kid II which reached number three. As for Chicago, Lamm resumed lead vocal duties. In 1995, their music was back in the chart courtesy of a sample from their 1979 song Street Player of which the brass section was the main hook on The Bucketheads' top five hit The Bomb (These Sounds Fall into My Mind).
The band are still active with four original members; Lamm, Loughnane, Pankow and Walter Parazaider the latter of which no longer tours with the band. Keith Howland, who joined in 1995 occasionally takes on lead vocals. Terry Kath, who had a history of alcohol and drug intake, died in 1978 after taking his own life by putting a gun to his head. His guitar playing was distinctive and in 2015, Guitar World compiled a list of all-time best wah-wah solos and they ranked 25 or 6 to 4 at number 22.