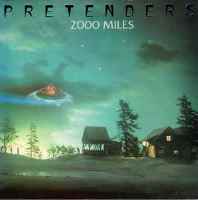 Three weeks ago, I covered the story of Keeping the Dream Alive by Freiheit, a song that has nothing to do with Christmas, yet only really gets wheeled out in December because it has that 'Christmassy' sound. I gave other examples of the same, but one not mentioned was 2000 miles by The Pretenders, although, to be honest, that one it a bit more understandable as it does mention snow and the 'C' word four times.
It was Blodwyn Buttercup who emailed me to say, "Hi Jon, could you look at The Pretenders 2000 miles, we have some differing opinions in our household on what/who it was written about?" I love to solve an argument me so, understandably when you listen to the song, on the face of it you would think the man has left the woman and kids behind and gone far away for reasons unknown and the song tells of how she misses him and wants him back etc., well, total nonsense.
The Pretenders are a British band with an American front woman. That woman is the Akron, Ohio-born lead singer Chrissie Hynde who came to the UK in 1973 and worked on the NME and in Malcolm McLaren's SEX shop. She recorded some demos she had written which Dave Hill at Anchor Records heard and gave her some studio time. He suggested she form her own band and in doing so recruited guitarist James Honeyman-Scott, Pete Farndon on bass and drummer Gerry Mcilduff. One of the first songs they recorded was a cover of the Kinks' Stop Your Sobbing and soon after, Gerry was replaced with Martin Chambers. All they needed was a name and it was Chrissie who chose that after the Platters hit, The Great Pretender.
In January 1980, Brass in Pocket topped the UK chart and became the first number one of the 80s. They followed it with Talk of the Town which made number eight. Their next top 10 hit was a cover of the Ray Davies-penned, Peggy Lee original I Go to Sleep in December 1981.
In the summer of 1982, Hynde called a band meeting and promptly sacked Fardon due to illegal substance abuse and two days later Honeyman-Scott was found dead in his girlfriend's house. His death was cocaine related and he was just 25.
That tragic news hit Hynde hard and the following year wrote 2000 Miles about him and, depending on your beliefs, has gone much further than 2000 miles or he's just up the road.
Hynde, later said, "It was James' legacy that kept the Pretenders together, we'd worked too hard to get it where it was and I had to finish what we'd started." Honeyman-Scott's void was filled by Robbie McIntosh (not to be confused with the Average White Band drummer) who, from 1988, joined Paul McCartney's band for six years.
What gives the song its added Christmas appeal was the video which featured Hynde dressed in a Salvation Army uniform as well as skiing down a mountain. In there somewhere, you'll see a mini nativity play, a rabbit and a fake polar bear climbing out of a cave.
In 2014, Chrissie recorded her first solo album called Stockholm which was recorded in Sweden's capital city and finds her collaborating with the native producer, musician and songwriter Björn Yttling. The album, which reached number 22 in the UK, features Neil Young and John McEnroe on electric guitars. Although it doesn't appear on the album, unless you bought the deluxe version, Chrissie and Björn collaborated on a new version of 2000 Miles which Chrissie said in an interview with Classic Rock Magazine, "I think it captures the mood of the season perfectly as it gets cold in Sweden, reindeer wander the streets freely and the snow was coming down!"
There have been a number of cover versions including Coldplay, Tom Chaplin of Keane and KT Tunstall. There are a couple of live duet versions where Chrissie performs it live with Kylie Minogue and, in 2017, Robert Plant.