You've reached Jon Kutner's website
2018 Start of Year Quiz details
For all you need to know about my 19th Start of Year Quiz

click here
My 1000 UK Number One Hits Book is still available to download for a kindle at just £9.61 from Amazon. It is being updated for digital download, but not in physical form. Click here to look or buy.
You can also read about some of the latest news items or read my updated biography.
Why not use the interactive forum where you can post comments as well as questions and others can reply or add their comments. You'll need to register (free) to do this.
Take a browse around the galleries of my weekly quiz venues and have a look at the comprehensive list of featured artists and dates when they were done. Just click on quiz venues at the top of the page.

If you are looking to book me for a function why not take a browse at Function DJ page and then contact me directly for a chat about details and pricing.
Every week there is a 'Single of the Week' piece and if you have a track you'd like me to write about, please send your requests via the site by clicking here.
This week it's the request of v-dubz who has asked for Shame by Evelyn 'Champagne' King, click on the icon at the top of the page if you would like to read it. You can also view the archive of all past singles of the week by clicking the Single Of The Week Archive tab at the top of this page.
The Online Quiz
Eight weeks done and with 16 maximum scores, the lead changes going into the last four weeks of the year. waynek74 nowe leads the way with 76 points then there is a four-way tie for second with JiltedJohn, CARRYONCHARTING, frankh and paulbarber all on 75. There is also a tie for third place with van the man and garyhill0202@hotmail.com both on 73 points. It's anyone's game as there are only five points separatig the top 12 players. At the end of last week ann-gus was in 68th place.
Week nine is up and awaiting your attention. Good luck as we visit the month of June.

The winner of the last league won a copy of this fascinating book.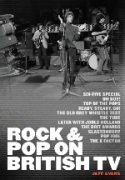 It's highly recommended and is available to buy, click here if you wish to do so.
For those who don't know, there are 12 weeks of multiple choice music question which always include at least one audio and one visual question. There will be a bonus prize for the person who ends up in the pre-picked position at the end of the league providing they've done at least 11 of the 12 weeks.
The quiz runs from midday Sunday until 11am the following Sunday and the pre-picked number for league 33 will be 68.
As always all you have to do is remember to do it EVERY week and if you have a tendency to forget, just set up the free reminder, and here's how to do it… Just log in, go to change account details, click 'yes' for the reminder and set the day and time you would like to be reminded and just remember to click 'change reminder setting' once you've done it. If you've already the quiz before the reminder is due then it will NOT send you the reminder. It will already know you've done it.
If there is something you would like me to cover on the 'Did You Know' feature, please let me know too. Please make your suggestions via return email or contacting me through the website. Go on, have a think, there must be one!

The age range of the people who do the quiz is so varied with the youngest person (that I know of) being 13 and the oldest (that I know of) being 86.
If you wish to change your username, email address and/or password there is now the facility for everyone to change their details by clicking 'change account details' but don't forget to save changes afterwards.
The rules for those doing it for the first time are: there are three minutes to do the quiz. If you navigate away from the page or click back it will give you a zero score and cannot be reset. You need to do at least 11 of the 12 weeks to qualify for the random pre-picked position. Whoever is in that position at the end of the league will receive an extra prize. If that person hasn't done 11 or more weeks then I'll go one below and then one above until I find someone who has done 11+ weeks. If you get a problem with the quiz, ie losing internet connection and the like, please contact me. BTW – Rose Adagio is featured in Tchaikovsky's Sleeping Beauty.
In 32 leagues there have been 13 different winners, can you make it into this elite group?